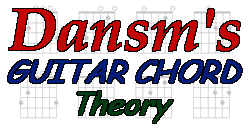 ---
Chords in Major Keys
---
Every piece of music you play is in a key, the basis of the musical sounds in a part of a piece. So when someone says "Tears in Heaven is in A", you know that the chords and melody of Tears in Heaven are based around the A chord. In each major key there are seven chords which fit into the scale, and that is what I am going to describe here. This information is very useful when figuring out songs or when writing music. So read on and you'll find the key to music (no pun intended) that has eluded you for years.
---
In order for this discussion to make sense, you must know a little about scales. The following discussion will get you by, but if you want to learn more I have a page on scales which explains these concepts fully. The major scale is made up of the following pattern of whole and half steps:



---
When we are playing the A major scale, we say we are in the key of A. You can transpose the A major scale scale to any other note (say C, or G) using the pattern of whole and half steps shown on the major scale diagram above. Using this method, you can figure out the C major scale or the G major scale, as shown here:

CDEFG ABC

GABCD EF#G

Look at the pattern of whole and half steps in the two scales above and see that they are the same as that shown in the major scale diagram. Use the chromatic diagram if you need help counting whole and half steps. This method of transposing will allow us to generalize the chord theory learned here to any key and any scale.
---
As discussed in my page on major/minor/diminished chord theory, the notes of the scale are referred to as "root" (or "tonic"), "second," "third," "fourth," etc., as shown on the diagram below. This will be very important when we start figuring out the chords in the major key below. Note that when we say "D is the fourth of A," you count A as 1, B as 2, C# as 3, and D as 4.





Each chord in the scale is indicated by a roman numeral corresponding to the numbers shown in the above diagram: root=I, second=ii, etc. These roman numeral designations are shown in the diagram below. "I" is the tonic (A), "ii" is the second (Bm), "iii" is the third (C#m), and so on. The roman numerals are coded to show which type of chord is played for that note of the scale: major, minor, or diminished. Upper case roman numerals (for example, V) indicate major chords, lower case numerals (vi) refer to minor chords, and viiº indicates a diminished chord. The interval patterns that make up these chords were discussed in my page on major/minor/diminished chord theory, so check it out if you haven't already. The diagram below shows the chords included in the key of A:





As the above diagram shows, the chords in the key of A are A, Bm, C#m, D, E, F#m, and G#º. In any major key, the chords will follow this same pattern of major, minor, and diminished chords, and this is very helpful when trying to write songs or figure out music.
---
You may ask how this pattern of major-minor-diminished chords is derived. The answer is very simple if you remember the interval patterns of major, minor, and diminished chords. To determine whether the chord based on A is major or minor or diminished, just go up to the major scale diagram and look at the root, third, and fifth of A: A-C#-E. According to my major/minor/diminished chord theory page, a chord containing A-C#-E is major. Next, look at the 1-3-5 of B: B-D-F#, which is minor. Then look at the 1-3-5 of C#: C#-E-G#, which is minor. If you keep doing this through all seven notes, you will come up with the pattern of major/minor/diminished chords shown above. It's that simple.
---
This theory is valuable for several reasons. Once you know the key of a song you basically know which chords can be used and which cannot. Some songs do contain out-of-key chords but you should be able to pick these out quickly. The most important chords in any major key are I, IV, and V (in this case: A, D, and E). Many popular songs use only these three chords. More intricate music (including most classical music) includes all seven of these chords. The table below shows the seven chords in several important keys:


Key

---

A
C
D
E
G

I

---

A
C
D
E
G

ii

---

Bm
Dm
Em
F#m
Am

iii

---

C#m
Em
F#m
G#m
Bm

IV

---

D
F
G
A
C

V

---

E
G
A
B
D

vi

---

F#m
Am
Bm
C#m
Em

viiº

---

G#º
Bº
C#º
D#º
F#º

Now that you know this, go and figure out some songs! Have fun with this very useful music theory. You can also look at my page on chords in minor keys or my complete guide to chords in keys for further information on all kinds of chords in keys.
---
Back to Dansm's Guitar Chord Theory
---
You are visitor number
since 3-26-97
---
© 1997 Daniel E. Smith.