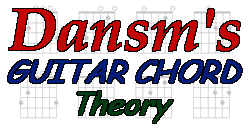 ---
Chords in Minor Keys
---
As you learned in my page on chords in major keys, every piece of music you play is in a key. In each key there are a number of chords which fit into the scale, and that is what I am going to describe here. I am not going to venture into scales, because I have a page on scales here, but I will mention them and their importance in choosing the chords of a song. This page provides a cursory overview of keys and theory, so I am assuming you have some knowledge of the guitar and scales.
---
Chords in minor keys are extremely complex because there are three different minor scales: natural, melodic, and harmonic. The patterns of half and whole steps in the scales are shown below. First the natural minor scale, which is identical to the major scale starting from the sixth note:



---
The harmonic minor scale is identical to the natural minor scale, except that it contains a raised seventh which allows a "leading tone" to the tonic:



---
The melodic minor scale is identical to the harmonic minor scale, except that it contains a raised sixth which eliminates that 1½ step jump:



---
If you've studied my page on chords in major keys, you know how to determine the chords in a key. If you apply that same method to the three scales above, you find three different sets of chords. These chords are shown below:


Natural
Harmonic
Melodic

i
i
i
iiş
iiş
ii
III
III+
III+
iv
iv
IV
v
V
V
VI
VI
#viş
VII
#viiş
#viiş

The # sign (as in #viş) indicates that the root of that chord is one half-step higher than in the natural minor scale. The + sign (as in III+) indicates an augmented chord, which consists of a major third and an augmented fifth (eight half steps; one half-step larger than a perfect fifth). These chords are very rare, so don't worry about formations.
---
The important things to notice are these. First, the natural minor scale is not easy to work with when writing a song; that's why the other two were invented. Second, when you are soloing, you have to know which minor scale/key the song is in. Third, remember that in a given minor key, you can switch between each of these three scales and still be in the same key. Therefore, it is extremely easy for an artist to switch between two of these minor scales in a song, or even in the middle of a line. The Eagles' Hotel California verse contains the following chords in B minor: Bm-F#-A-E-G-D-Em-F#, which translates as i-V-VII-IV-VI-III-iv-V. This is a great example of a switch from harmonic to natural minor keys and back in the middle of a song. So pay attention to that and don't expect artists to adhere to any single scale/key.

I hope this chord theory has been useful even if it is extremely complex. It is not terribly important to understand, though if you find yourself with a song in a minor key (like Hotel California) it will help you explain all those major chords. Good luck with those minor keys!
---
Back to Dansm's Guitar Chord Theory
---
You are visitor number
since 3-26-97
---
İ 1998 Daniel E. Smith.